Drive the positive
transformation in your company
The goals of this course is to develop your human, managerial and strategic skills in order to increase sustainable performance while becoming a key player in workplace well-being!
"This helped creating different connexions with teammates, it enabled me to see the humain being behind the coworker"
Camille Caudron, sales assistant at NTT Ltd
"Excellent course that is divided in 2 two-days work sessions. It was conducted with passion and enthusiasm by Annika and Philippe"
Carol Mora, HR at SA
"The positive energy from the speakers' team have greatly helped to create exchange and sharing among participants"
Laure Falk, Team leader & ad interim
Discover the CHO course content
"INFLUENCEUR"
Chief Happiness Officer


Fundamentals program

OBJECTIVES
The CHO Fundamentals course will equip you with the knowledge and capacity to positively influence on your environment, team, company stakeholders and customers.
---
PROGRAMME
Fundamentals: the science of workplace performance and the links between health, happiness and engagement
Challenges: assessing the work environment – from surviving to thriving

 

Happiness Manager best practices:
– The drivers for happiness at work: The "3 Rs"
– The impact of leadership
– Emotional intelligence, individual and collective
– Psychological safety in the workplace
– Sustainable resilience; why and how
– Mesuring and analyzing happiness
Becoming an effective CHO
Responsibilities and key success factors
---
PREREQUISITES 
At least 4 years of work experience
---
INFORMATIONS
Training dates : 2-days training

In French:
October 12th and 13th, 2023 – Online or face-to-face in Geneva
In English: November 9th and 10th, 2023 – Online only

"Chief Happiness Officer" Fundamentals Certificate given at the end of the training
Prices

Face-to-face: CHF 1,960
Online: CHF 1,660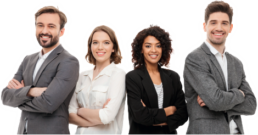 "TRANSFORMATEUR"
Chief Happiness Officer


Advanced program

OBJECTIVES
As the person responsible for leading positive transformation in the workplace, you will master the cross-functional drivers that are key to effecting long-term change across complex organisations.
---
PROGRAMME
Employees' needs and the key drivers of engagement
Transformational strategy: spot the challenges and develop a methodology and a strategy for enhancing quality of life at work
Cross-functional drivers: 8 modules to expand your "Happiness Toolbox":
– Create purpose
– Build trust and psychological safety within organisations
– Align behaviors with culture and values
– Reduce absenteeism by actively managing absences
– Rethink internal communication in a fast-changing business
– Adapt the environment and the organisation
– Mesure impact: happiness and performance indicators
– Manage change and positive transformation
Key challenges of the CHO and "Leadership by Happiness": identify and manage barriers and drivers (both personal and organizational)
Your personal action plan to deliver positive transformation and long-term performance
---
PREREQUISITES 
CHO Fundamentals Certificate or relevant professional experience (based on a review of your application)
---
INFORMATIONS
Training dates : 2-days training

In French:
November 14th and 15th, 2023 – Online or face-to-face in Geneva
In English: November 30th and December 1st, 2023 – Online only

"Chief Happiness Officer" Advanced Certificate given at the end of the training
Prices

Face-to-face: CHF 1,960
Online: CHF 1,660
"INFLUENCEUR & TRANSFORMER"
Chief Happiness Officer


Complete program: Fundamentals AND advanced

INFORMATIONS
Fundamentals and Advanced levels (4 days)
Prices
Face-to-face training : CHF 3'700 instead of CHF 3'920
Online training : CHF 3'100 instead of CHF 3'320
"TEAM PACKAGE"
Be the change you want to see in your organization… but not alone!
Create a movement of wellbeing ambassadors
The more people trained in a company, the higher is the impact.
Join and invite your colleagues: 
Second inscription – 30 % discount

Third inscription – 50 % discount
*This offer is valid within the same company. Please contact us for multiple inscriptions.
WHO IS THIS PROGRAMME FOR?
Anyone who wants to improve the well-being of their team or business
Executives and managers
Human resource and communication professionals, PMO specialists…
Internal and external facilitators, coaches and consultants
The price includes all course materials and daily thematic discussions with a guest expert
The training combines theory, best practices from leading companies, group discussion and experience sharing
All our instructors are recognized experts in their field
Each participant gets a one-on-one coaching session at the end of the course
The programme can be delivered in-company (minimum 8 participants)
« The CHO training is an insightful and inspiring yet concrete workshop on how Happiness can change the way we interact at the workplace to make it a fulfilling everyday experience.
The first two days are a comprehensive introduction to the concept of how a happier workforce can and will increase productivity and the success of any company. »
« The second part provides for very useful and concrete tools on how to implement the concept on a daily basis.
The training days are complemented with external experts highlighting specific topics.
Annika and Philippe are an excellent tandem, they master their topic fully and energize the conversation both live and online. »

Annika Sagnell Blum
Senior Client Relationship Officer
Pictet Wealth Management
---
Limited number of participants
WHY IS HAPPINESS AT WORK SO IMPORTANT?
Happy and engages employees are :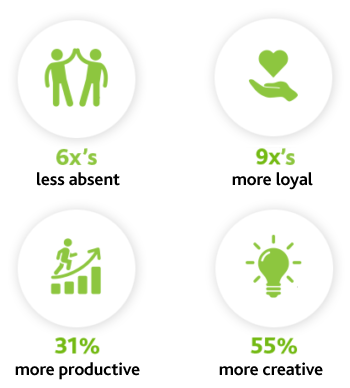 Sustainable business and employees
Whether from lost sales, quality issues, inefficiencies, poor cost management or absenteeism, businesses around the world lose millions in revenue each day because employees are disengaged, overworked or stressed out.
Many studies have shown that "happiness" is a central factor for organizational growth and success, and that employees' well-being drives performance, innovation and long-term sustainability. 
---
Graphique : Lyubomirsky, King, Diener, 2005 – Gallup, 2012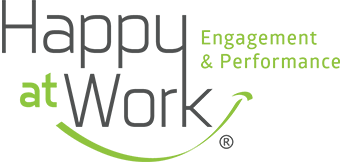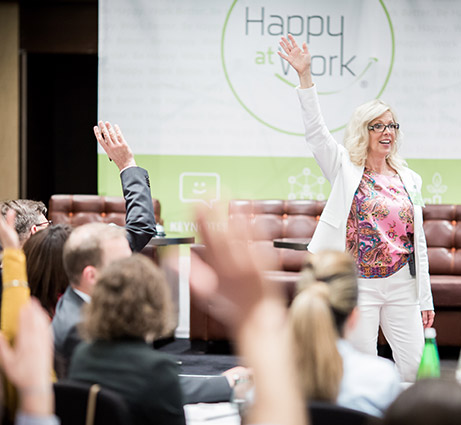 Supporting positive transformation in the workplace
Since 2008, Happy at Work has been helping organisations and business leaders improve their performance through enlightened and responsible human capital management.
More than 10,000 leaders have attended our programmes worldwide.
The modules of the CHO training programme are led by Happy at Work founder Annika Månsson, a pioneer and recognised authority on workplace happiness, alongside instructors with extensive experience in their field, from business leadership, human resources and corporate communication to workplace psychology, absence management and workplace strategy.
All together, we make a Happy team!